I came across a tweet, on St. Patrick's Day, which I couldn't resist. (Thank you Animation Chefs!)
I read the post, which spoke about an app, iStopMotion, which was on my radar of apps to 'play' with; mainly to determine if it was something which could be used in the classroom.  Here is my first stop motion animation:
I had fun making it!  I had three images printed out which I used to create the video above.  After I saved the video, I used iMovie to trim the length and do the voice over.  I was thinking this would be a great little intro clip for any tutorial videos I make in the future.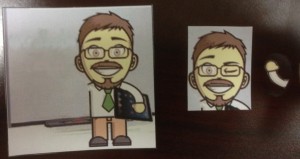 Speaking of the future… I know when creating next year's Heritage Project, iStopMotion could be used to create the background videos, for the students' Tellagamis, on how their family migrated to the United States.
How do/would you use this app?