This post is part of the #EdublogsClub – a group of educators and educational technology enthusiasts that blog around a common theme each week. Simply write a post and share it (via social media w/ #edublogsclub or posting a link as a comment to that topic's posting on the Edublogger site) to join in, or sign up to receive email reminders of each new prompt. 
Prompt: Write a post about conferences and professional learning.

Here are some possible topics to help get you started:

Write a list of the top conferences you want to attend before you retire.
Have you presented at an academic conference? If so, write about your presentation and share with everyone!
Write about the most inspiring speaker you've seen at a conference, and tell about how it impacted your approach to education.
Write a post discussing tips for getting the most out of conferences.
Write a post about what conferences need to do to continue to be a positive force in education.
Last week (June 27, 2017) myself and a few of my colleagues attended and presented at the South Brunswick Technology and Learning Conference. This is one of the most organized conferences I've attended recently. Other than some audio system trouble at lunch, the rest of the day was flawless (in my humble opinion). They take some inspiration from Edcamp, i.e. collaborative session notes and the 'Rule of Two Feet'. The kickoff keynote was entertaining with a great message on youth leadership opportunities.
I facilitated two sessions, Creating with ThingLink and another on Making Google Forms Work for You. Both sessions had low attendance, but for those there, I believe they found great value, were able to get a little hands-on, came up with some integration ideas, and had all their questions answered. Below are the resources I used in my sessions: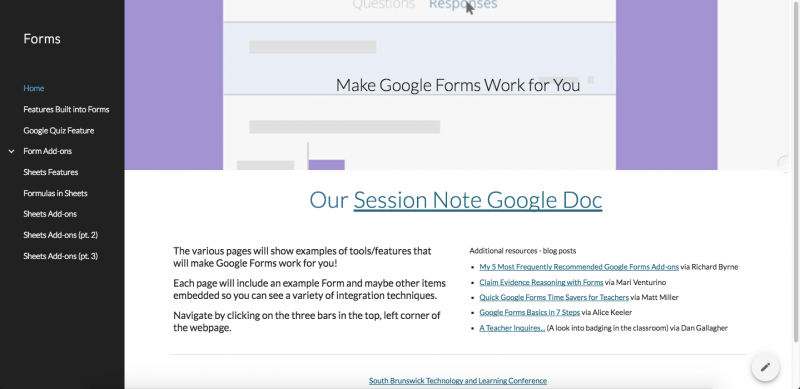 Overall (even though I didn't win any door prizes), this was a great conference! Plus, as an added bonus and something I think other conferences need to keep in mind, South Brunswick waves your registration and gives you a nice 'goodie bag' for being a presenter.