I've written about Edji before in a few posts on this blog and for full transparency, I'm an Edji Visionary.
I was asked by Edji to write a follow-up post for the TeacherCast blog after a recent episode of the TeacherCast Podcast hosted by Jeff Bradbury, featured an interview with Edji Co-founder, Will Stewart, and fellow Visionary, Lacy Greco. I was excited to share my take on why I find Edji powerful.
In my opinion, any technology tool which can be used in a classroom, regardless of content area and grade level, is something every technology coach needs to include in their 'toolbox'. My post shares ten ways Edji could be integrated in different curricular areas, such as an experience I had just the other day in one of my seventh grade Social Studies classrooms.
The teacher was having students analyze a piece of political artwork for the symbolism which the artist added. In groups, students divided the various tasks among themselves:
'Questioner' – this student would examine the image (enlarged), searching for potential symbolism
'Researcher' – two students would search the web for meaning in the various symbols and cite their findings
'Image Tagger' – this student would annotate the image with the results of the research
After some time had past, the teacher turned on "Heat Vision" allowing the students to see each others' findings. Check out the screenshot below.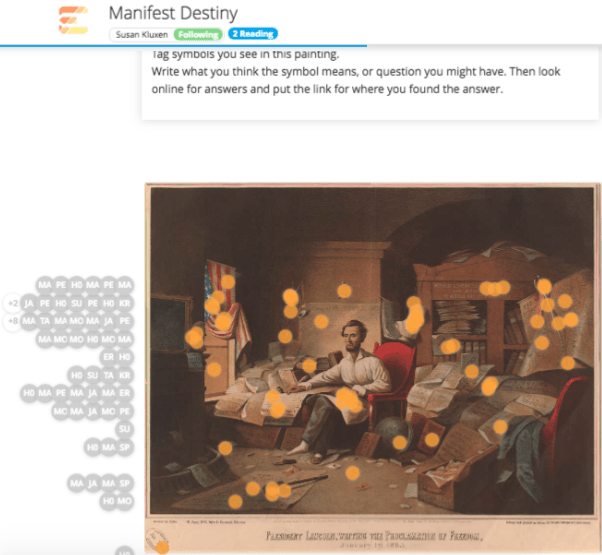 Please also check out my other examples on the TeacherCast Blog post which Jeff has published:
Have you ever been asked to write a guest post on a blog? I would love to read about your experiences in the comments below OR check out my page for guest posts for this site and have your technology exploits shared with the world.